13 Things that are on my Mind
1. My sister is a strange strange lady haha!
2. I miss Paul
3. I can't believe John seriously asked me what happened to my kids bellybuttons (they have cute ones!)
4. I hate Bank of America
5. I'm glad I got a new bank and get to shut B of A down!!!
6. The Backyardagins is a pretty cool show, especially when Jake sings the 'Super rad moves' song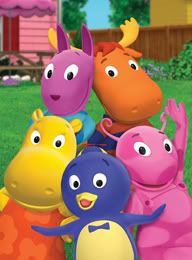 7. I am so completely bored I am running out of things on my mind
8. Yay!!! it's the 1st day of SPRING!!! I cant wait to be warm all the time!
9. I can't believe we missed trash day again!
10. It's almost nap time
11. I love the new fresh linen scents I just bought, I got the air freshener and the carpet powder!
12. I wonder what Paul is doing at this exact moment?
13. Why can't my kids just listen to me the 1st time I say something, I find myself having to repeat it 3 times for it to somewhat kick in!
So here is my Thursday Thirteen, I know it is a pretty random list but I really couldn't think of anything else to put down!